On May 20, 2019, we opened applications for the first-ever Netacles Digital Trainee Programme, a FREE three-month digital skills training programme. Selected trainees received hands-on training on digital marketing, website design, blogging, and content creation, and more. In the sections below, they share their experiences.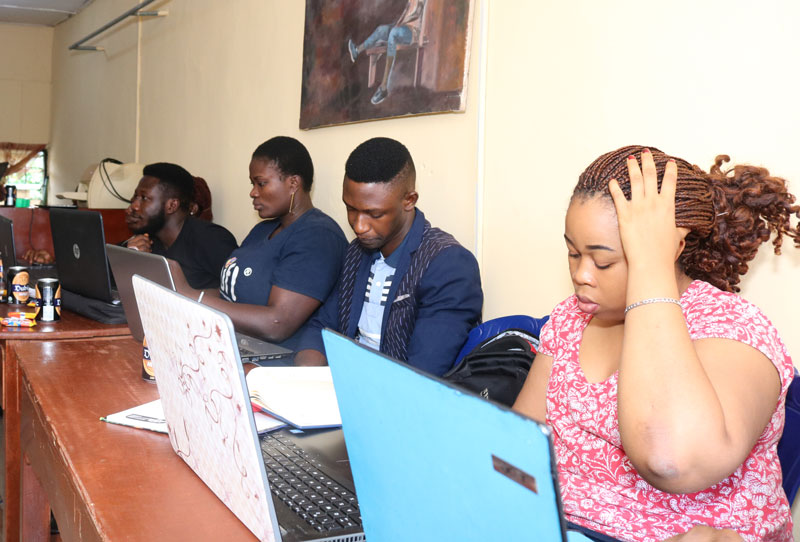 "The tutors were dedicated, competent, and were ever ready to guide us."
The journey started on the 5th day of June, 2019, when I received an email from Netacles Digital that I am among the 12 trainees selected from almost 60 applicants for the Digital Trainee Programme.
The first day of the first week was for introduction to what the programme was all about, introduction to the working tools (Asana, Slack, Google Drive), our individual email account setup, and then finally for that day we had to set up our working tools. Within me I was like, 'Yes, let's go there!'
The remaining days of the first week were for introduction to the different tracks of the programme: Content Writing, Web Design and Development, and Graphics Design. Each trainee was required to choose only but two: one major and one minor. My mind already made up from the moment I applied that I was doing so mainly for web design, I now had only to choose a minor between Content and Graphics. Finally, I went for Graphics.
What I enjoyed most within these few months was the way the classes were conducted – it was indeed very wonderful. The tutors were dedicated, competent, and were ever ready to guide us. I can't forget the video lecture we had – wow, it was indeed another experience altogether!
I can't deny the fact that within these few months, I have learnt a lot about digital marketing (content writing, how to get nice keywords using the Keyword Planner tool, email marketing, how to write a good meta description), creating responsive web pages using WordPress, HTML and CSS, and lots more.
Indeed, Netacles Digital has opened my eyes to things I never knew existed in the world of digital marketing.
Gracias!
"It wasn't just the knowledgeable classes, the teacher-student relationship was dope."
Hi, my name is Victoria Salami, a corps member. I was privileged to be one of the few selected for Netacles Digital Trainee Programme in which I majored in Content Writing.
The training lasted for three months. A lot was covered, delivered in concise details, which made it easy to absorb. The structure was well tailored, clear and very effective. Netacles Digital had obviously thought about it long enough, with a lot of expertise alongside.
I learnt how to write blog posts, website content, email newsletters, e-books. I learnt a whole lot of writing techniques. This improved my writing tremendously, as I went from a baby writer to a pro.
It wasn't just the knowledgeable classes – the teacher-student relationship was dope. The way and manner we were tutored was just legendary!
Going through a digital academy is great, but going through Netacles Digital Academy is faaaar greater!
I'll recommend Netacles Digital any day anytime.
"The learning experience is one that I can't forget."
I can't stop saying how grateful I am for the opportunity to be a part of this programme. And to think that I got the opportunity out of the goodness of your heart, because I didn't participate in the screening process…I'm just so grateful!
Digital marketing is a skill that I've yearned to acquire for the longest time now but never got the opportunity to. I even established a so-called digital marketing brand without prior knowledge or just a faint knowledge of digital marketing, but after a few months at Netacles Digital, I've seen the light and, to a large extent, I feel like even shutting down that brand and building it from scratch.
All this while, I used to think that knowledge is power but now I know that real power lies in having the right knowledge, not just in having any knowledge.
It is remarkable how we became 'one house.' At first we barely knew each other's names, but now the bond has grown so strong just because of the suitable learning environment. We weren't just taught digital marketing, we were also taught how to grow above mediocrity and aim for the stars.
I really don't know what to say and what not to say – there is a lot to say, but all I have in my heart is gratitude. The learning experience is one that I can't forget. Dinma, I think you're a gifted teacher. Thank you very much, Dinma and Netacles Digital, for this great and amazing privilege. May God richly bless you.
"I'm greater, smarter, more knowledgeable, and stronger than I came."
I may not be able to totally express the impact of this training in words because it's beyond imagination.
Being part of this training organized by Netacles Academy has impacted my life so much; it has changed my perception left, right and centre.
At the beginning of the three-month training, I was like: 'Lord, when will this end😔, can I do it?' I had other activities calling my attention, but this is knowledge I greatly desired to acquire this year and they were ready to teach it free.
I thought they would just give us 'head knowledge,' similar to what I had experienced. But it wasn't, this one was different. They meant business!
I had many options (Graphics, Web Programming, Digital Marketing and Content) to pick from. My major track was Web Programming while my minor track was Graphics.
The tutors were professionals, with refined, up-to-date information in their respective fields. What I enjoyed most was how they cheerfully and passionately taught the classes.
Our programming tutor was on fire, passionate about the training, very humble. He gave us all the information we required during each class. He would often say to us, 'It's very easy' or 'It's a simple thing.'
Graphics class with Tobe – interesting! I had many questions for any graphics designer I met, but not this time because he knew how to impart difficult concepts. And Ma Chidinma was always present to direct him.
Ma, you have become a great part of my life. Great men and women are made by words. The knowledge you gave me has sown the seed of greatness in me. I'm greater, smarter, more knowledgeable, and stronger than I came.
I will forever love you, Madam Chidinma. My 2019 goals were accomplished with greater speed because of you. You will always be in my heart.  Thank you, Ma!
Register for our upcoming training and we could be reading your transformation story next.
"Beyond my expectations, these people knew what they were doing."
One thing I have always prayed and hoped for was to learn digital skills. I have always known that my love for IT would one day earn me some good money, but this remained only a dream as I got older due to paucity of funds. At a point, I gave up, taking a stern resolve that my children would learn digital skills from a very tender age.
On May 25, 2019, I saw an advert for a free three-month digital trainee programme organized by Netacles Digital. At first I did not believe it. Who would train you for three months free of charge in Nigeria, without asking you to pledge your life to their cause? But I went ahead and applied, and also told some friends. After all, it is free, no harm in trying.
June 5, I received an SMS requesting that I check my email. When I did, it was the first 'Congratulations' I had got in a very long time. I had already given up hoping to be selected, for any online applications I did. But here it was: hope revived, dead dream reawakened. I could learn digital marketing, web design, graphic design, content writing, all for free. It was just unbelievable.
As I prepared for the programme scheduled to hold from June 10 to September 6, 2019, so many questions filled my mind. Top of these was, 'What if their terms and conditions are not favourable to me?' The answer was simple, 'I'd quit.' After all, I had almost given up on it already, and he who is down fears no fall.
Beyond my expectations, these people knew what they were doing. They were not offering us free trainings because they wanted publicity or any of such business-oriented reasons. They wanted to impact lives for good, and fortunately for me, I got this opportunity. I made up my mind to never take it for granted. More like finding a treasure after throwing in the towel.
Today, I am glad I stayed back in Nsukka after graduation to build my business. I am glad Netacles Digital gave me the opportunity to live my dream again. With specialization in Content Writing and Digital Marketing, I am well armed to explore the myriad of opportunities in the digital world. This is just the starting point for me. The digital world is the next big thing and I am tapping into it full time.
Thank you, Netacles Digital!
"I can only give one piece of advice to the new and upcoming trainees: Take the most out of this experience!"
When I first heard about Netacles Digital Academy Trainee Programme, I immediately thought: This is an amazing opportunity to acquire digital skills. Today, I have to say it is much more than that.
It is an experience that has expanded my view not only of the digital/tech world but also of the business world. I started when I had only a little knowledge of graphics design and web design, but I have since learnt a lot in those fields through the extensive classes we had with the highly experienced tutors. In addition, I developed business-relevant skills through the in-depth digital marketing classes.
I have always heard about digital marketing, but underrated its importance in the real world. At Netacles Digital Academy, I got the opportunity to be tutored by a professional in the field of digital marketing, Miss Chidinmma Nnamani, who brought to my notice the different aspects of digital marketing such as content marketing, email marketing, search engine optimization, social media marketing, search engine marketing, etc.
With the knowledge I acquired from this three-month training, I strongly believe that if I start my own business, it would excel because I can actually monitor and keep track of how the business is faring using the various digital marketing tools at my disposal.
It has been a wonderful experience being a trainee at Netacles Digital Academy. I can only give one piece of advice to the new and upcoming trainees: Take the most out of this experience!
"Thank you for making me see life from the positive angle of hardwork."
My name is Chika Godson Asogwa. I am a graduate of computer science at the University of Nigeria, Nsukka. I had a good foundation in theoretical computing but zero real-life experience and practical skill.
I came across the Netacles Digital free digital skills training advert on social media. I applied and was absorbed into the program. I was introduced to front-end website design, graphics design and content writing. After taking a kind of glances at the skills, I was asked to choose two tracks – a major and a minor. I opted for website design and graphics design, added to the mandatory digital marketing classes.
Having acquired this life-changing skills at Netacles Digital at zero cost, I am now intellectually fit to bear the title: 'Computer Scientist.'
Thank you Chidinma, the Creative Director of Netacles Digital, for giving hope to the youth. Thank you for making me see life from the positive angle of hardwork. Never before have I had such hope and anticipation for what my future career might hold, because I never knew how important having an IT skill is. Thank you for leading me to my career.
It has been great learning at Netacles Digital for the past three months. There is literally nothing in my career life that hasn't been impacted positively by Netacles Digital in some way.
"Netacles Digital offered me an opportunity I have not seen most people get."
Getting accepted for the Netacles Digital Trainee Programme was a divine arrangement for me as it came at the time I needed it most. I have always been an IT lover, and the training really proved to me that true power lies in the IT sector. I am very glad to be among the few that hold that power. 
For the training, my major track was Web Design and the minor track was Graphics Design. I was excited to learn both as they are highly sought-after skills. We started with HTML and CSS in Web Design, and both were really fascinating. 
In addition to coding, we were taught how to use WordPress to create full responsive websites. This is a pure shortcut to coding, and because it is the trend currently, it is a lesson every web designer must learn and practice. I was really happy to be exposed to simpler ways to design websites.
We also learnt a lot about digital marketing. We were introduced to many concepts such as SEO, email marketing, content marketing and so on.  
Netacles Digital offered me an opportunity I have not seen most people get – self-development at no cost. I am really grateful to the founder, Chidinma Nnamani (the lady that fascinates me, a very intelligent, cheerful and interesting lady), for giving me such a rare opportunity. I also thank Chibututu Nnamani, my very knowledgeable web design teacher, and every other person who contributed to my learning at the academy.
NETACLES DIGITAL is the place to be!"
Register for our upcoming training and we could be reading your transformation story next.